ABOUT US
People that you know who are lower-middle income that want to take care of their pets, they can bring them here.
We can take care of them for a lower cost. The quality is still the same. We love them like you do.
"I highly recommend this place. Real people. Real answers & solutions with a realistic & affordable fee." - Facebook Review
OUR VETERINARIAN
If you want top veterinary care, look no further than Dr. Alva Jackson at Markland Veterinary Clinic!
Dr. Jackson, Markland Veterinary Clinic, graduated in 2013 from St. George Vet School after completing his clinical rotation at Purdue University School of Veterinary Medicine. Dr. Jackson also received his B.A. of Arts and MS in Human Physiology from IUK.
Prior to opening Markland Veterinary Clinic in April 2017, Dr. Jackson worked as a veterinarian in another practice. As the owner and veterinarian of this clinic, he has been able to fulfill his dream of helping pet parents and their furbabies get the medical treatment and attention that they truly deserve.
Dr. Jackson has a tribe of pets, both in the clinic and at home. The resident cat staff, Blacky-Doodie, Buffy, and Trip, can often be found helping patients and making the office feel much more like a home. Dr Jackson himself owns 4 dogs, Sidney, Summer, Zeke, and Autumn, a cat named Jacob, a quarter horse named Wiz, a pig named Baby, chickens, turkeys and goats too!
When Dr. Jackson isn't at the clinic caring for our beloved animal patients, he enjoys fishing, watching horror movies and unsuccessfully holding back his tears while watching Old Yeller.
Dr. Jackson looks forward to meeting you and your fur-family!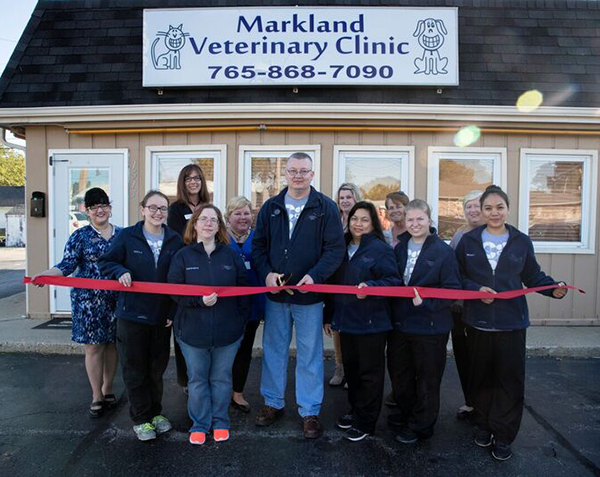 OUR OFFICE
1515 E. Markland Ave.
Kokomo, IN 46901
Phone: (765) 868-7090
Fax: (765) 450-6225
Mon-Fri: 8:00am - 5:00pm
Sat: 8:00am - 12:00pm
Sun: Closed